HTML5 offers new and powerful features for web designers. Most new websites are built on HTML5 and many top websites have already made the conversion. This curriculum teaches students the most important new features of HTML5 and how to create their own websites on the HTML5 platform. A brief introduction to CSS3 is also included. All coding is done by hand in a text editor and no special software is required.
The curriculum adheres closely to the International Society for Technology in Education Standards for Computer Science Educators (ISTE-CSE). These standards include best practices when teaching with technology in education.
The Introduction to HTML5 curriculum is a comprehensive set of materials to teach a six-week HTML5 class at the high school level. Course materials are platform independent (PC or Mac) and include: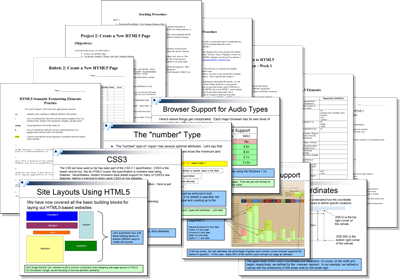 A course schedule.
4 student handouts and exercises (not graded).
6 weeks of daily lesson plans (30 days of 50-minute instruction).
16 slide presentations (170+ slides) to teach the core concepts.
9 class projects, each requiring hand-coding of HTML5.
9 grading rubrics, one for each project.
9 HTML5/CSS source code examples, one for each class project.
5 weekly quizzes.
A final exam.
All materials are in unlocked digital format and thus fully editable. Teachers will be free to modify and customize the materials to meet the needs of their own classroom environments.
Teacher Requirements :
Desktop or laptop (Windows or Mac).
Microsoft Office or OpenOffice.
Projector.
Student Requirements :
Desktop, laptop, Chromebook, or netbook (Windows or Mac).
Basic text editor such as Notepad (Windows) or TextEdit (Mac).
Course Prerequisites :
Our 12-week Introduction to Web Design course or equivalent HTML/CSS experience.
Delivery Format :
Digital download.
Curriculum Price :
$169.00 per school. (Unlimited teachers, students, and computers. License never expires.)
---
Order and Download the Curriculum for Your School Today
---