Nearly one quarter of all newly published websites are built on the WordPress platform. It is by far the most popular content management system (CMS) in existence today. So why aren't more high schools teaching WordPress to their students? One reason was the lack of quality classroom instructional materials, which was our motivation to develop this curriculum.
The Introduction to WordPress course includes all materials needed to teach a six-week WordPress class at the high school level. The curriculum focuses on how to create and manage a blog or static website on the WordPress.com site. All materials are platform independent and can be used in a PC, Mac, or Linux environment.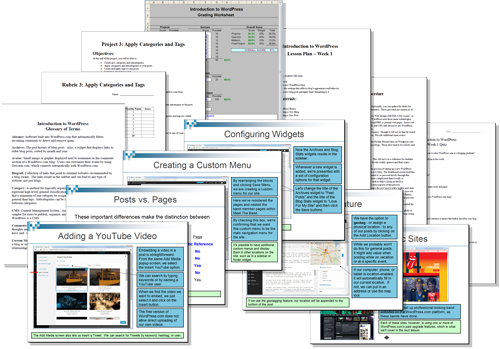 Course materials include:
6 weeks of daily lesson plans (30 days of 50-minute instruction).
16 slide presentations (180+ slides) to teach the core concepts.
12 class projects, involving hands-on tasks.
12 grading rubrics, one for each project.
5 weekly quizzes.
A final exam.
A WordPress glossary student handout (ungraded).
A suggested grading worksheet for teachers.
All materials are in unlocked digital format and thus are fully editable. Teachers are free to modify and customize the materials to meet the needs of their own classroom environments.
Teacher Requirements :
Desktop or laptop (Windows or Mac).
Microsoft Office or OpenOffice.
Projector.
Student Requirements :
Desktop, laptop, Chromebook, or netbook (Windows, Mac, or Linux).
Internet access.
Course Prerequisites :
None.
Delivery Format :
Digital download.
Curriculum Price :
$159.00 per school. (Unlimited teachers, students, and computers. License never expires.)
---
Order and Download the Curriculum for Your School Today
---